Hey people.
I figured for today's post since I didn't take any new pics, I'd float by today by posting some of my forays into creative art. And yes I did take Graphic Design, but my skills are nowhere where'd I like them to be. So bear with me, and humor my ass for a little bit okay?
You know all those funny demotivational and Pwned pics that you find everywhere on the internet? Yeah I enjoy a good bit of them too. So much in fact, that I even tried my hand at a few. Enjoy.
Remember where that quote came from? Here's a hint, it was before the hideous George Clooney era, but right after the awesome Michael Keaton series.
This is from an actual picture of Adam West riding an elephant. And no, I don't know why the fuck he was doing that, but what the hell, he's Adam West!
And here's some variations on the theme:
Any
House of 1000 Corpses
fans in the audience? I fell in love instantly with this cult-classic hit by
Rob Zombie
when I first saw this movie. Then he made the sequel,
Devil's Rejects
, and I really dug that. Not only did I really enjoy the sequel as much as the first, but it's in Devil's Rejects that I discovered classic rocker,
Terry Reid
. Of course all those things are topics for another day, back to what I was originally talking about.
Anyway, I made a faux-movie poster-type thing for House of 1000 Corpses using the picture I took of my uncompleted C&C's and various spare parts. Here's at least seven different versions of what I was trying to accomplish, and yes I like to change things up and make several variations in a theme:
As you can clearly see, I was playing around with what type of font best suited the logo for the faux-poster, and since I'm not good enough to photoshop the real movie logo onto the poster, I went with the next best thing of trying out various fonts.
I personally like the all-red, and and red- and yellow-
Psycho
-style fonts myself.
Next up is really old work I did on MS Paint. I was creating a faux-comic book cover for a superhero character of sorts I created called "Bug Man." Yes, I know, very creative name genius"(sarcasm)
But it's the best and easiest I can thing of that applies to a guy who's basically Animal Man, but with bug powers only. His visual was kind of based of an old
TNMT
episode I watched where a scientist/entomologist, was working on some kind of weird formula, for something, I don't know. But he was attacked by Foot soldiers, and left for dead, whilst being drenched in his own formula and various other chemicals. Yeah I know that sounds perverted if taken out of context, but I swear that's how it happened. It was the early 90's, what'd you expect?
Anyways, he wakes up and starts to grow wings, a scorpion tail, bug eyes, and pinchers out of the side of his mouth. I'm talking shit that you probably saw in the movie
Guyver
. Yeah, that kind of freaky! Hell he made Baxter Stockman look like Antonio Bandareas compared to what this guy wind up looking like.
Here's Baxter Stockman: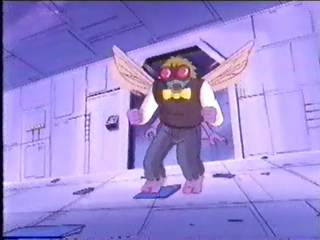 So yeah, that's how I imagined would happen to this guy I made up. He was/is a scientist trying to work on a super-soldier-like serum, but loaded to the fucking nine with different types of bug DNA and venom/blood, and there you go.
And here's the kicker, you know who his main antagonist is? Come on, it's so obvious?
The Extreminator
!
Yep, I'm just a creative sonuvabitch sometimes.
So here's my humble effort at a possible comic book
cover for Bug-Man:
The text on the side, in case you're wondering what the fuck that's all about, is my attempt at insect language- speak for Bug-Man. Again, I'm just so damn creative, can't you tell?
Interesting factoid, or not, I used to want to be an Entomologist when I was little, since I liked bugs so much, or rather killing them so much. I guess its a good thing that never happened, or else I might have ended up as a bug exterminator since I don't think I'd have the attention span or good enough grades to make it as a scientist.
Oh wait! On further investigation into the bug doctor episode, I discovered he too was called Bugman, and was Michelangelo's favorite super-hero. Nice.
Here's what he looked like transforming, you know,just in case you were curious:
I told you he looked freaky.